DRAGONS RACE TO THE EDGE
After defeating Viggo and destroying the Dragon Eye, the calm doesn't last long as Hiccup learns the Hunters remain a threat led by a new villain who can control Dragons! Now, Hiccup, Toothless and the Riders must battle the Hunters like never before with help from new and old allies. But after a series of shocking revelations, Hiccup learns that the true leader of the Dragon Hunters is somebody he never expected who threatens the course of the dragon-kind forever! The race is on for the Riders to defeat the Hunters once and for all before it's too late, only on Netflix TODAY!
Just as Hiccup and friends were about to leave the eerie dragon graveyard, they are bombarded by a group of Sentinels! At first, this dragon species appears to be a giant statue, until they start attacking you! See what these new dragons are made of in an all-new season of Dragons Race to the Edge, coming to Netflix August 25!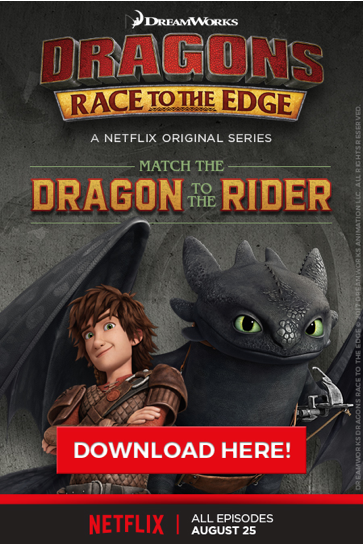 Here are some fun activities for the kids