Easy to Order Gifts for Every Type of Mom!
Easy to Order Gifts for Every Type of Mom!
Lat & Lo is the unique handcrafted jewelry brand that inscribes sentimental customized latitude longitude coordinates to a meaningful place in your life on necklaces, bracelets, rings and other accessories. Each piece is customized to represent a special place using coordinates. Whether it's your hometown or the place you married the love of your life, choose Lat & Lo to inscribe your memorable place. You can also include a personal message on the back of the piece.
Price: Varies
Available at: www.latandlo.com
Whether you're blessed, grateful, or simply want to show your love to mom, these hand stamped and forged bracelets are a contemporary-styled memento you can wear with anything. Available in silver and gold.
Price: Varies
Available at: https://juliodesigns.com/
Trophy Skin brings the spa to you, offering microdermabrasion devices that smooth and brighten skin restoring that youthful glow. Their light therapy kits, one for antiaging and one for acne, emit specific wavelengths of light to either boost collagen production or treat acne. With the MiniMD you can treat yourself to a spa luxury treatment from anywhere. This mini handheld microdermabrasion system reveals a radiant complexion, improves texture and skin tone, softens harsh lines and wrinkles and lightens age spots. Best of all, it comes at an affordable cost.
Price: $19.99+
Available at: https://trophyskin.com/
Created by a Chemist in 1933, Formula 10.0.6 is an iconic and credible skin care brand trusted to perfect troublesome skin. Designed with a vibrant sense of style, Formula 10.0.6 has a unique youthful confidence that is warm, friendly, and fun. The range offers an honest and uncomplicated approach to skin care, created for achievable complexion perfection. Products are formulated with a familiar mix of botanicals to deliver a range of accessible, effective and easy to use products to promote clear and healthy skin.
Price: $10.00+
Available at: https://www.formula1006.com/
reStickitys are your photos printed on an uber durable, surface-friendly, easy-to-display, peel and stick fabric adhesive material. They can be peeled off and moved over and over again without any damage to the photo or surface. They quite literally stick to anything too; wood, metal, glass, fabric, painted plastic, cinder block walls. A personal, thoughtful, easy to use gift…that doesn't require a trip to the store!
Price: $4.99+
Available at: https://www.restickity.com/
Finally, the perfect family group activity where everyone can participate, the Adventure Challenge is a mystery scratch-off book with 50 creative adventures…The catch? You don't know what you're doing until you scratch it off! Each adventure is designed to explore outside your habits, dive deeper into your relationship, and make meaningful memories. Once it's scratched off, you HAVE to do it. It's time to discover something new about yourself!
Price: $39.99+
Available at: www.theadventurechallenge.com
If you're looking for some gorgeous linens that mom will absolutely adore, Alaina Organic offers bath and beach towels that are sustainable, eco-friendly pieces made from 100 percent organic Turkish cotton. Providing truly natural linens, the cotton is dyed using botanical and vegetable oils instead of chemicals.
Price: $47.00+
Available at: https://www.alainaorganic.com/
For the dog mom that loves dressing up their pup with the cutest and trendiest accessories, Pink Papyrus has got it covered by offering leashes, collars, shirts, bandanas, and waste bag holders! Long walks just got upgraded with hand spun, cotton, weather proof, hypoallergenic, naturally elastic, sustainable leashes and collars. Protect your pup from bugs and sun with a classic, tie-on bandana. When nature calls, be prepared with a durable waste bag holder crafted from heavy-duty fabric and solid brass hardware.
Price: $20.00+
Available at: https://www.pinkpapyrus.com
Mothers love instinctevely and make sacrifices on a daily basis which is why this company's main reason was to use quotes about mothering, or parenting, on the jar lids of their products. Now whenever something is "homemade", it always tastes better! Which brings us to Somebody's Mother's delicious array of dessert toppings and sauces, all made with love and care in every single jar.
Price: $24.00+
Available at: https://somebodysmothers.com/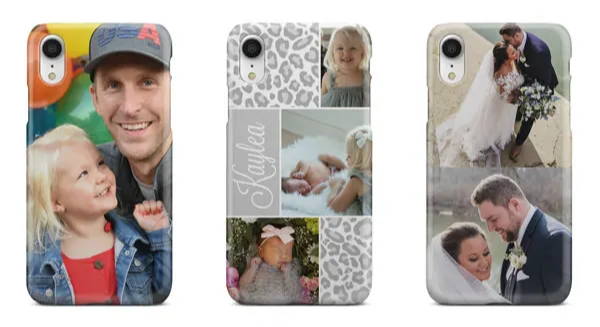 Custom Envy lets you design your own phone case for Apple, Samsung, and Google phones. Smartphones are expensive investments, so give your mom a personalized casing to protect her phone. You can personalize the design of the phone case by including photos of precious moments, quotes, or your mom's name to make the present extra special.
Price: $23.99 to $29.99Available at: https://www.customenvy.com/