Spend Time With Nana Thanks To Teleflora
The Site may contain testimonials or reviews. These testimonials reflect the real ­life experiences and opinions of such users. However, the experiences are personal to those particular users, and may not necessarily be representative of all users of our products and/or services. We do not claim, and you should not assume, that all users will have the same experiences. I have been given product(s) to help me review the below. This may or may not affect my opinion.
Spend Time With Nana Thanks To Teleflora #LoveOutLoad
Spending time with our Grandmothers is so important when we are young. Nana gets to spoil the kids and play with them since they have more time. We also have more patience with grandchildren then we did with our own kids. Grandchildren love to see when Nana comes to visit but sometimes it just can't happen. Now you can spend time with Nana with help from Teleflora!
We can send her beautiful flowers so she knows we are thinking about her.  We can send the grandkids flowers so they know how much we miss them.  You can spend time with Nana at anytime since Teleflora will help us out.  Flowers are such a welcomed gift to anyone and at this time of year it is appreciated even more. Send some love this year!
This Thomas Kinkade's Warm Winter Wishes Bouquet makes an excellent gift for her. She can set this on her table and she will know you miss her as much as she misses you.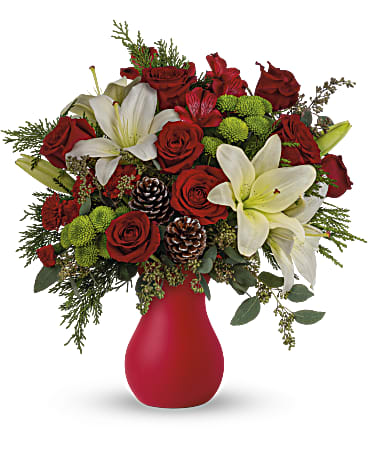 Teleflora's Yuletide Greetings Bouquet makes another great gift. I send my Mother flowers at different times of the year and they are always from Teleflora. I know how much she loves their bouquets and the flowers last longer than any other place I have tried.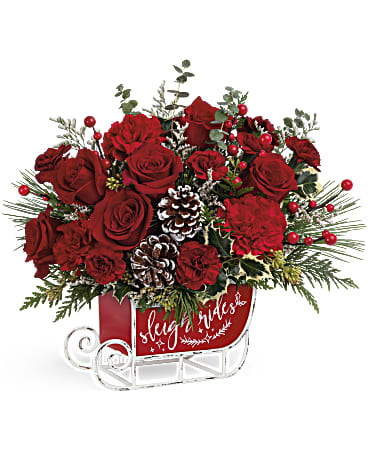 This Teleflora's Vintage Sleigh Ride Bouquet is so full it almost looks like it is bursting. This would make anyone's day and especially a Nana.
Teleflora is celebrating the 2021 holiday season by reuniting 21 families across the country. From November 18 through December 6, consumers can post a photo of their favorite holiday memory on Instagram, tagging #LoveOutLoudContest and @Teleflora, along with what it would mean to be reconnected with family for a chance to win round-trip airfare and Teleflora bouquets for a year. More details and the official rules can be found at Teleflora.com/Holidays.  
"This holiday season, more than ever, we wanted to remind Americans to pause and cherish what matters most—the power of family and the beauty of connection," said Danielle Mason, vice president of marketing, Teleflora. "Whether you are celebrating together or sending joy to loved ones from afar, a Teleflora bouquet adds to the festivities as families reunite for their holiday traditions. With this campaign, we've harnessed the magic of the holidays as we showcase the emotional connection flowers deliver to those you love." 
~~~
Happy Holidays! It time to buy gifts for your friends and family.  Why not take a look at our Holiday Gift Guide to see if we have something that will make your shopping easier.  We have so many parties and family get-togethers and we have things that will help you get ready. Shop in all the categories to see what you like.
If you are a sponsor and would like to work with the Michigan Saving and More to have your amazing products and brand featured by us in our future gift guides, you can get more information or you can sign up HERE and/or contact me at [email protected] for the current gift guide. Social Media Gurus Network Gift Guides are the perfect place to get your products noticed!
If you are a blogger and would like to join our 2022 gift guides you can find more information HERE.