I have received samples of products to facilitate this review.  I may receive product, a small commission, or a small fee for hosting this product for my followers/visitors to view. For further questions please see my disclosure policy.

ZURU Has Toys To Keep Kids Busy that are great for outdoors, Easter, and more.
Easter with families limiting their time outside of the house, parents are looking for alternative ways to keep their kids excited for this festive time of year. ZURU products can help make Easter a whole lot of fun for kids of all ages with indoor and outdoor activities! This year, parents can mix-it-up and hide ZURU's popular egg-shaped toys wherever for a fun time that is made up of endless surprises, interactivity and playtime beyond the plastic candy-filled eggs.
Smashers Series 3: Dino It's time to go back to the land before time… with Smashers Series 3 DINO! Explore the Jurassic world of the wackiest Dinosaurs you'll ever meet. Smash open the NEW Smash Egg to find what's crawling inside with over 100+ dinosaur characters to collect! Or, get down n' dino with the new SMASH REX playset! Lift his tail to bite down on your Smash Eggs, then press down on the egg shell to SMASH & POOP out your Dino Smashers! Smash your Smashers on the ground, to the wall or anywhere you can think and start building your Smashers collection today! The smashing will never end!
Dino Smashers Series 3 – 8 pack Smash open the NEW Smash Egg to find what's crawling inside with over 100+ dinosaur characters to collect! Smash your dino smashers on the ground, to the wall or anywhere you can think and start building your Smashers collection today! The smashing will never end! Ages 4+, SRP $9.99. Available at Amazon and Walmart.
Dino Smashers Epic Egg Unwrap the shrink-wrap and smash open the giant egg! Use the scratch n' reveal map to start your journey and discover clues to find the fossils inside! Includes: Epic dino egg, dino scratch map, dino yolk egg bag, 5 compounds, digging tool, exclusive smash-o-saur, 6x smash eggs and smash egg rebuilder for tons more dino fun! Ages 4+, SRP: $24.99. Available at Amazon , Walmart and Target. With this many toys it will keep kids busy for a long time.
Rainbocorns Following the unprecedented success of Rainbocorns Sequin Surprise of 2019, the Rainbocorns squad carries forward this Spring with Rainbocorns Series 2: The Ultimate Surprise Egg, Rainbocorns Sparkle Heart Surprise and Rainbocorns Big Bow Surprise (Limited Edition).
Rainbocorns Sparkle Heart Surprise Rainbocorns Sparkle Heart Surprise includes a Rainbocorn collectible with a unique gem heart! Pop the gem in your Rainbocorn or onto your bling ring, and swap your rainbocorn's hearts and wings to create your own cute surprise! Find other surprises including boo-boocorns, rainbocorn poop and much more in every pack! Ages 3+, two-pack SRP $4.99; four-pack SRP $9.99. Available at Amazon , Walmart and Target .
Rainbocorns Sequin Surprise Series 2 Plush – The Ultimate Surprise Egg The Ultimate Surprise Egg features 10 layers of surprises from the collectible r ainbocornegg, the scented plush, a reversible sequin heart accessory, a hatching certificate, charm bracelet Rainbocorn Poop compound and more. Age 3+, SRP $24.99. Available at Amazon and Target .
Rainbocorns Big Bow Surprise Discover the most BOW-utiful surprises with Rainbocorns Big Bow Surprise! Hatch open the giant golden egg to discover the biggest Rainbocorn yet, with over 25 layers of Rainbocorn fun! Which giant cuddly Rainbocorn will you unbox? Pop your sparkly Big Bow off the golden egg and wear it as the cutest accessory. Find even more surprises like new sequin patterned hearts that you can share and swap, adorable accessories, stickers, and all new collectible Bow-Bowcorns! There are 3 cuddly cuties to collect including Belle, Bobbi and Bowie Big Bow! Ages 5+, Available at Walmart . 
5 Surprise Unicorn ZURU's 5 Surprise blooming capsule is back containing all the elements you need to build your Unicorn Squad character. Featuring the same 5 Surprise fun excitement of unwrapping, peeling and revealing cool capsules with toys inside each one, the totally cute and utterly collectable, every neon pink 5 Surprise Unicorn includes one sassy unicorn (in 2 compartments), Interchangeable dress-up accessories, a comb for her majestic tail and four themed stickers. Perfect for swapping and trading to complete and enhance collections, the first wave of 5 Surprise Unicorn includes 12 sassy and stylish unicorns to collect. Ages 4+, SRP $5.99. Available on Amazon and Walmart .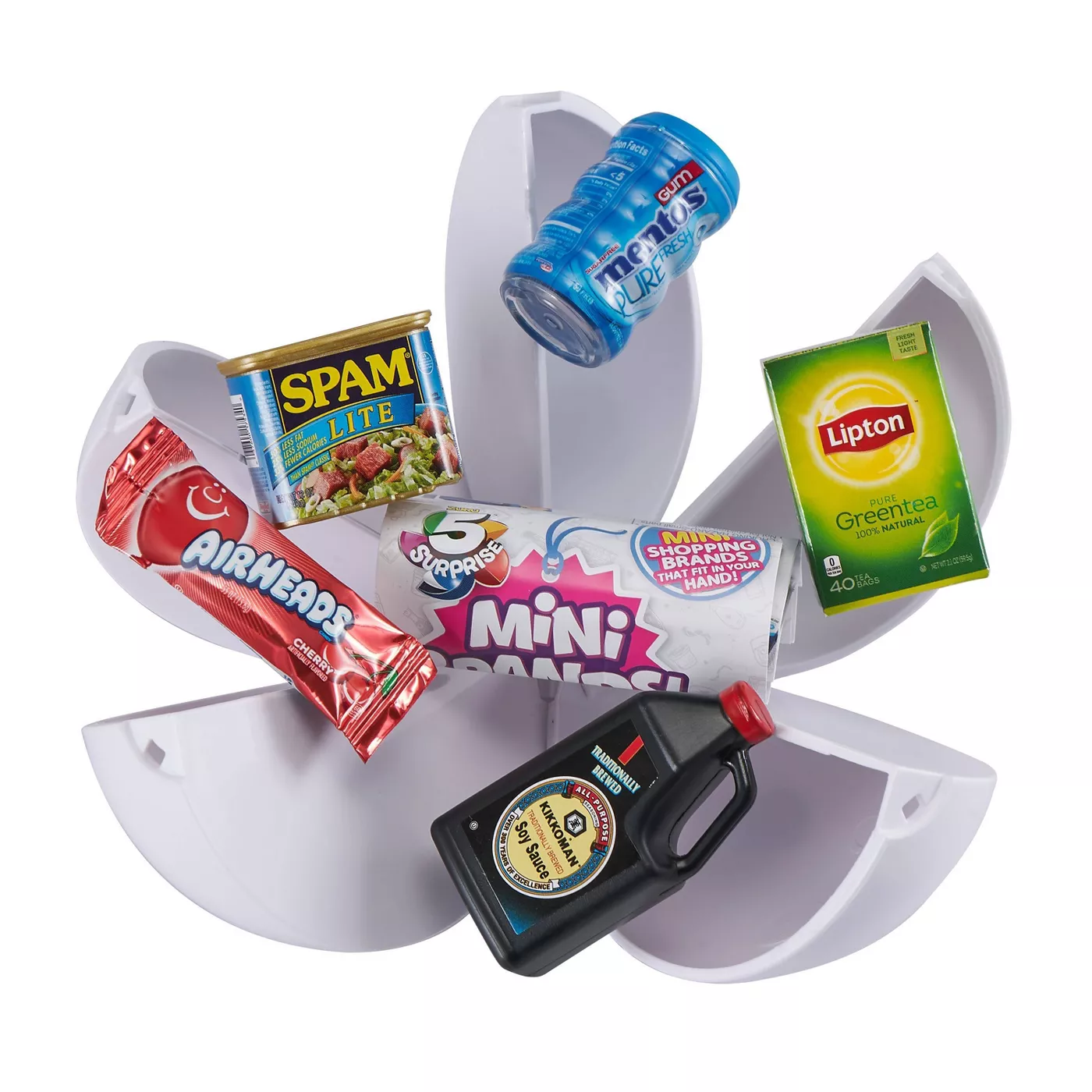 5 Surprise Mini Brands 5 Surprise Mini Brands are real shopping brands that fit in your hands! Unwrap, peel, and reveal REAL miniature collectibles with 5 Surprise Mini Brands! Each capsule is a surprise unboxing with dozens of miniatures and surprise shopping accessories to find. What 5 surprises will you unbox? There are over 70 miniatures of your favorite brands to collect, including rare Metallic and Glow in the Dark minis, and Super Rare Golden Minis too! Collect them all to create your own mini shopping world! Ages 5+, SRP $5.99. Available at Amazon , Target and Walmart.
Dino Strike 5 Surprise Unbox, build, and battle all new 5 Surprise Dino Strike! Assemble your battling dinos and get them ready to face off against their fierce enemies. Each dino comes with armor and headgear, customizable weapon backpacks and weapons that you can fire and swap for the ultimate combat combo. Collect all 13 battling dinos like the roaring T-Rex, charging triceratops and the fearsome velociraptors. Can you find and go into battle with the molten gold T-Rex fossil dino? Swap your weapons across each weapon backpack and even combine single and double blasters to make the ultimate triple blaster prehistoric predator ready for warfare! Ages 3+, SRP 6.99. Available at Walmart . Indoor Favorites 
Rainbow Boppi – The Dancing Llama Shake it like nobody's watching! Pets Alive Boppi the Booty Shakin' Llama will get the entire family up dancing and laughing for hours! Now you can Bop it with Boppi who has 3 NEW epic songs, NEW dance moves, and NEW rainbow fur! Rainbow Boppi's funky personality, vibrant colours, hilarious dance moves and 360 spins is sure to steal the dance floor!Key features include three awesome songs to bop, spin and dance to, robotic booty shaking and head spinning motions, and cute and realistic features and coloring! Batteries not included (4x Alkaline AAA required). Ages 3+, SRP $19.99. Available at Target , Amazon and Walmart .
Oosh Cotton Candy Cuties Series 2 Cotton Candy Cuties with glitter sparkle looks so real and smells so good! The latest innovation is the new must have compound! This scented, squishy fun slime comes in four awesome colours and stretches over 3000% in size. Each pop contains also a surprise Cutie inside! Combining two things girls absolutely love – fluffy, sweet smelling compounds and cute, collectible slow rise squishy toys. OOSH Cotton Candy SRP $5.99, OOSH Cotton Candy Cuties SRP $9.99 on Amazon and Walmart . 
Keep kids busy with these great, affordable toys that make great additions to their Easter baskets or just because gifts.
WEBSITE ~ FACEBOOK ~ YOU TUBE ~ INSTAGRAM
While staying at home don't forget Father's Day is coming up soon.  You can easily order something online and have it sent directly to him so he knows you are thinking about him. Also don't forget about recent grads!  They worked for this year and it messed up their celebrations, send them something to show your congratulations. Visit our Dads and Grads Gift Guide to see all the great products we think Dads and Grads will love.
If you're a sponsor and would like to work with the Social Media Guru Network to have your amazing products and brand featured by us for this or future gift guides, you can get more information or you can sign up HERE and/or contact me at [email protected] Social Media Gurus Network Gift Guides are the perfect place to get your products noticed!